Students,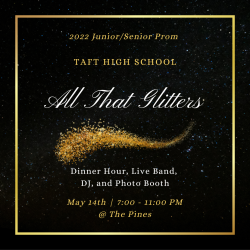 The Class of 2023 is excited to host their biggest fundraiser of the year, the 2022 All That Glitters Prom!
This year we are coming back big and getting down in Tiger Town!  Tickets are available at the student store for $40 each!
Breakdown:
$20 Admission – The dance will feature a DJ and a Photo Booth to capture all your prom night memories!
$20 Dinner & Drink – Dinner hour will feature a meal voucher, a live musical performance, and your choice of a signature drink!
*If students would like to just attend the dance then they may just pay for admission.
If you have any questions please contact the Taft Office.