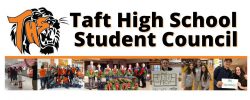 A student-led effort to better our school and community
Mission Statement
To make our school a unified, spirited, equitable, and
welcoming place where all students are 
accepted, included, and empowered to be the change they want to see. 
What is Student Council?
The purpose of the student council is to give students an opportunity to develop leadership skills by organizing and carrying out school activities and service projects.  In addition to planning events that contribute to school spirit and community welfare, the student council is the voice of the student body.  As a group of peer elected officials, we help share student ideas, interests and concerns with the school wide community.
The function of the student council is based upon parliamentary procedures.  Ideas are presented, voted upon and confirmed by the student body president.  Any student that is interested in leadership, organizational behavior, event planning or becoming more involved in the school are welcome to become involved by running for a position, and/or joining the Leadership class.
Who are the Representatives?
Faculty Advisor: Nichole Le Sage
20/21 Student Representatives and their responsibilities
Election Information: 
Are you interested in running for an Appointed Position or  joining Leadership for the 2021- 2022 school year? Please visit our constitution for the process and note the below timeline.
Election Timeline:
Application Opens: 05/01
Election Application Due: 05/08
Election Campaign: 05/10-5/14
Election Days: 05/10- 05/14 
Click here to view the the Constitution 
Click here to see the Student Council meeting minutes as composed by Secretary Ryan Riggs
Taft High ASB is a proud recipient of the OASC Gold Star Status