The school year is off and running!
Winter Newsletter,
We are off and running into the school year.  Our new staff and classes have been going exceptionally well.   Matt Hilgers as the new Athletic Director/Assistant Principal and Maddy Anderson as the new Assistant Principal are doing some great things to support our staff, students and community.  We appreciate all that they are doing for our school.  They will both be great additions to Taft 7-12 and are excited to be TIGERS!
STUDENTS ARE 1 to 1 with Chromebooks! This year each student has a device that is signed out to them for the year.  Our 9th to 12th grade students are allowed to take home their devices and are responsible for charging them nightly.  Our middle school students check-in/out their devices daily.  Many of our teachers utilize google classroom as a tool…ask your student about their google classroom.
Grades and progress reports will be sent home on:
2nd 6-Weeks – December 6th
3rd 6-Weeks, Semester End – January 30th
4th 6-Weeks – March 13th
5th 6-Weeks – April 1st
6th 6-Weeks, Semester 2 End – June 9th
Out attendance campaign continues.  We want all of our students to be here everyday but we understand there are circumstances that prevent students from coming.  Our high school regular attendance rate is at 68.52%(65.7% last year) and middle school is at 79.61%(71.5% last year).  Our goal is to increase our regular attendance rate by 5% and work with all students and families.  We will be sending out information periodically throughout the year.  Here is a list of non-school days to that you may plan your future appointments and vacations: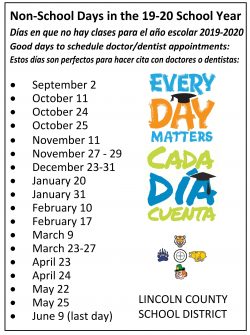 At Taft 7-12 we are working on two school-wide systems AVID(Advancement Via Individual Determination) and PBIS(Positive Behavioral Intervention System).  Our middle school students are working on staying organized by using their binders and planners everyday as academic tools.  Our teachers are focusing writing, inquiry, collaboration, organization and reading (WICOR) each lesson with strategy-based teaching.  Please ask your student about their interactive notebooks and google classrooms they are using.
At Taft 7-12 our PBIS framework focuses on the R. O. C. K.(Responsible, Organized, Cooperative, and Kind) expectations.  Each area in the school has ROCK expectations.  #TigersROCK Teacher are excited to be working with your student everyday with the goal that they are growing academically, socially, and emotionally.  Our mission at Taft 7-12 is: We model passionate learning in a safe and respectful environment, empowering students to be resilient and prepared for future opportunities in a global society.
Thank you everyone for your continued support of our students and school.  I truly am grateful for all the generosity and compassion this community has for its schools.
Nicholas Lupo
Principal of Taft 7-12
541-996-2115
Get Information!! Download the APP!
Communication:
Facebook – Taft 7-12 Tigers and/or Taft 7-12 Athletics
Twitter – @taft712
Instagram – Taft712
Webpage – https://Lincoln.k12.or.us